School Open Evening Packages
Promotional Print
To support your open events
Find Out More
Your open evening is one of the most important events in your marketing calendar and therefore it is important that you ensure all prospective parents know when it is! The easiest way to achieve this is with promotional print items which will allow you to highlight the date to the community and will also further your school brand and look professional.
To help with this we have put together a few packages of items that you can order, with ease. The items in the packages will all be designed to fit in with your current school branding, incorporating your logo and colours and school photography too. We have pre written wording you can use or we can add in bespoke copy for your school - whichever you prefer.
Our open evening packages are easy to order, great value for money and will look great both in the run up and on the night of your event.
Available Packages
If you would like to order a package then we just need you to send us your school logo, details of your school brand (colours, set fonts if you have them etc) and any photos and we'll put together the designs for your approval. 

We offer a number of different options to suit your school and we are also able to put together a bespoke package just for you if you require something different to the ones below - just give us a call on 01933 303520 to discuss! 
Our Options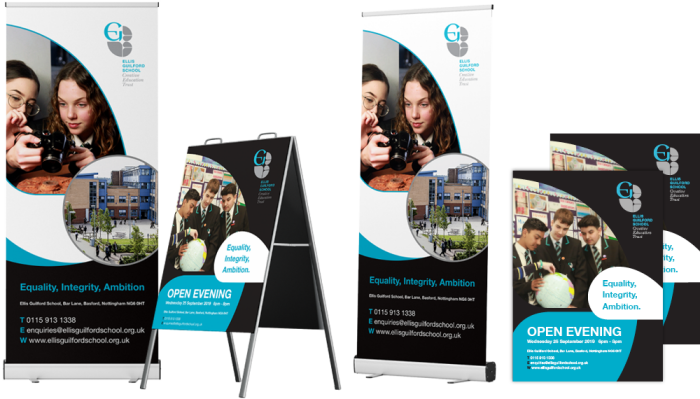 Welcome Package
Promote your event and make a fantastic first impression on the day of your event with these eye-catching materials. This package contains 2 Roller Banners, an A-Board, 2 A-Board Posters & 2 Foamex Display Boards.
Order Now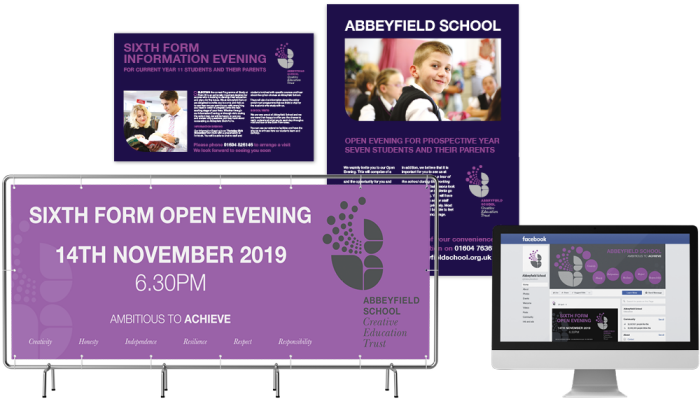 Recruitment Bundle
Make sure no one misses your event with our recruitment bundle. This package contains: a 3m wide External Vinyl Banner, 1,000 A5 Leaflets, 1/2 Page Advert Design & Social Media Header Designs.
Order Now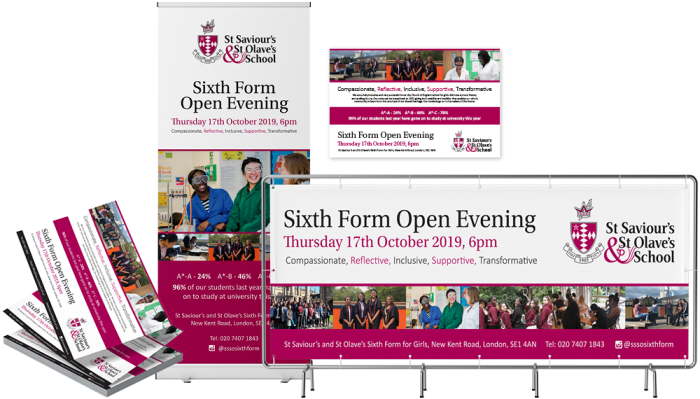 All Rounder
Cover all bases with a mixture of marketing items to promote the date and roller banners to decorate your school areas. This package contains: 2 Roller Banners, a 3m wide External Vinyl Banner, 1/2 Page Advert Design, 1,000 A5 Leaflets.
Order Now
We also offer a printed Exam Package which is very popular with our secondary schools. This includes printed items to help mark out areas in school that are being used for exams and also highlights important information for students taking the exams. The items are all designed to match your school branding so will look professional around campus whilst also being informative. 
Our exam package typically contains 2 Stop! Roller Banners, An Electronic Warning Banner, an A-Frame poster holder and 2 A-Frame Posters. We are able to put together bespoke packages though should you require anything different to this so please don't hesitate to call us if you'd like to discuss the options further.